The System
My Solar Plant is a light, portable, performant, foldable and easy-to-use modular solar generation system for use in residential, commercial and small business environments. The goal of its design is to provide the user with a highly performant personal solar plant that can be taken everywhere and can be installed in a matter of minutes with simple tools.
The system consists of an array of modules ("The MODULES"), each containing a self-supporting structure and semi-flexible PV panels, and a compact box ("The BOX") comprising an advanced inverter and a lithium battery. Furthermore the structure incorporates an innovative 2-axes solar tracker highly accurate and affordable.
The MODULES and The BOX shape the traditional architecture of a domestic solar electricity generation system that feeds the loads of an installation either from the generation components (PV panels or battery) or from the grid.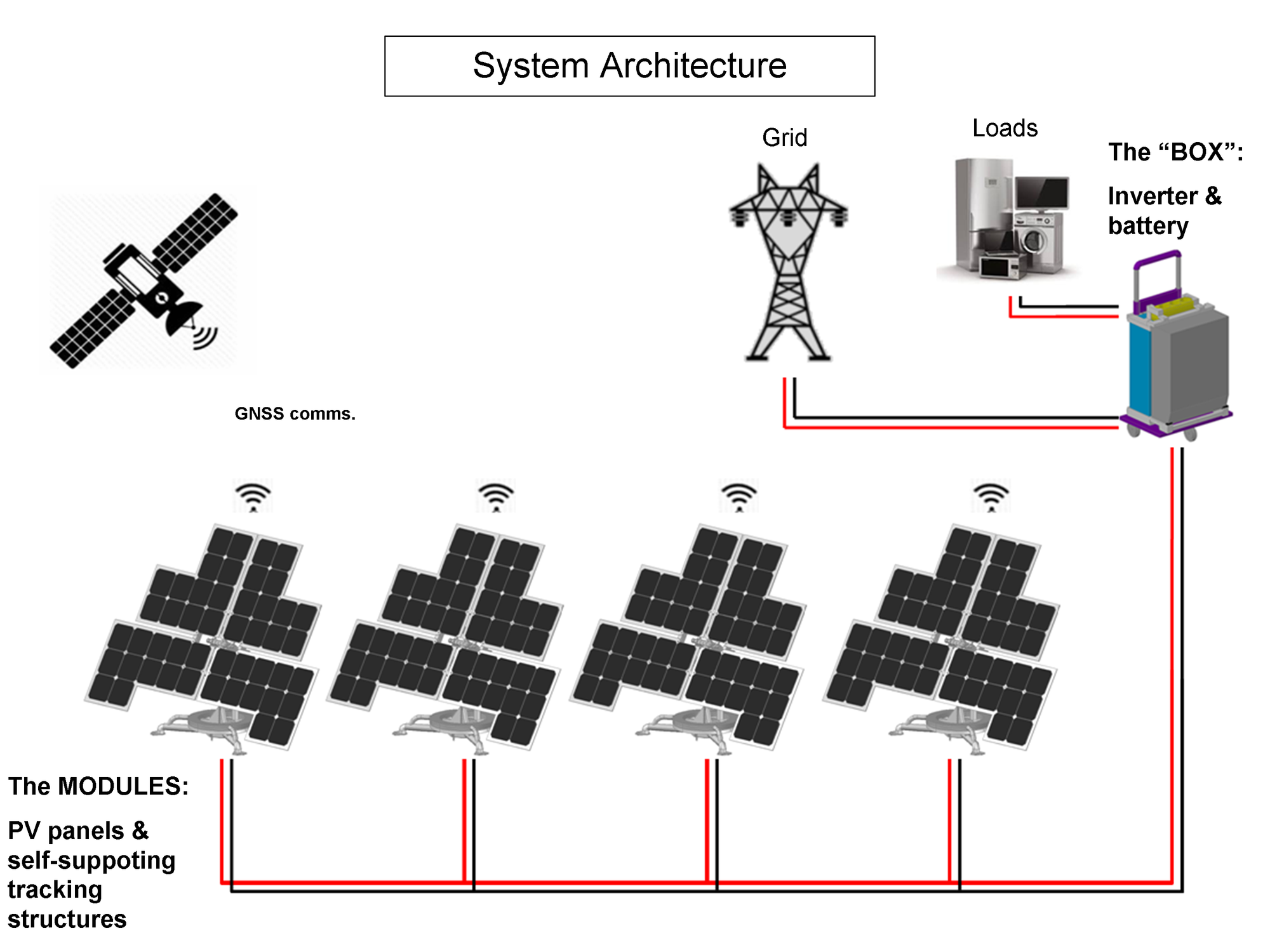 How It Works
Each module is easily assembled and disassembled by the user in just a few minutes with simple tools. All module pieces once disassembled are firmly folded in a compact volume that fits in a small suitcase for its transport and storage.
See assembly demonstration video ->
Each module incorporates an accurate and efficient 2-axes tracking system that increases generation performance in percentages around 50%.
See 1-day tracking demonstration video ->
Your browser does not support HTML5 video.
Market and Sales Lines
The target market of My Solar Plant is solar generation systems supported by storage for use in residential, commercial and small business environments. My Solar Plant can be used in all possible operation modes in this market either in off-grid self-consumption installations or in the different configurations of grid-connected ones depending on user needs and regulatory conditions.
2 main segments and sale channels are envisaged for the product:
The first is through direct sales on the Internet to end users in kits of different powers comprising an array of MODULES and the BOX. 3 module models have been designed in the project with resulting nominal powers of 100W, 150W and 240W. The number of modules comprising the kits will be from 4 to 8 and the resulting powers will range from ~400W to ~2000W with voltage configurations of 12V and 24V.
The second sale channel is through solar installers for systems with more permanent use to complement their installations when roof space is limited but space in gardens and terraces is available. In this case modules are sold separately and their number and resulting power is established by installers.