THE SYSTEM
MY SOLAR PLANT is a light, performant, portable, foldable and easy-to-use modular solar generation system for self-consumption. It's been designed to empower end-users with a highly performant personal solar generator easy to transport and also easy to assemble in a matter of minutes with no tools (real Plug & Play).
The system consists of an array of modules ("The MODULES"), each containing a self-supporting structure and semi-flexible PV panels, and a power box ("The BOX") comprising an advanced hybrid inverter and a lithium battery. Furthermore the structure incorporates an innovative 2-axes solar tracker highly accurate and affordable. Standalone modules can also be used as solar chargers by means of a simple charge adapter.
These characteristics make the system suitable, on the one hand, for temporary uses and specific needs in isolated environments, and on the other for self-consumption in households and small businesses in more permanent use modes. The BOX includes an AC input for uninterrupted supply from a backup source that in the first case (portable mode for temporary uses) will typically be a fuel generator and in the second (home mode for permanent uses) the electricity grid. The following image illustrates the general architecture: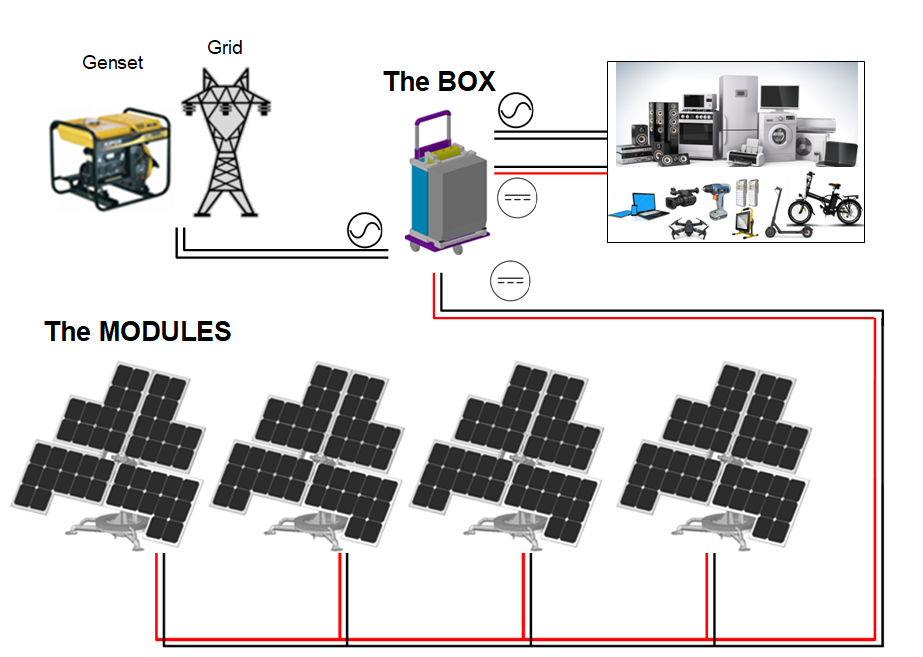 See quick presentation video ->
HOW IT WORKS
Each MODULE is easily assembled and disassembled by the user in just a few minutes and with no tools (real Plug & Play). Once disassembled the MODULE is folded in a compact volume that fits in a small suitcase for its transport and storage. Each MODULE incorporates an accurate and efficient 2-axes solar tracker electronically controlled that the user will turn on once the module is assembled. MODULES are easily interconnected one another in parallel in an array whose number will determine the overall power to be reached by the system.
(NOTE: since currently the intellectual property protection of the BOX is not yet implemented its design details and operation are not here presented; these important features will be presented in the next website upgrade).
See assembly and operation demonstration video ->
See 1-day tracking demonstration video ->
Your browser does not support HTML5 video.
PRODUCT LINES AND MARKETS
Target customers are identified out from the following 3 product lines and their associated markets:
Solar chargers as a consumer good to end users. This product line will be based on direct selling of individual modules with a simple detached ADAPTER that will allow the charge of all rechargeable devices up to 200W (smartphones, laptopts, wireless rechargeable appliances, electrical bikes, scooters, etc).
Solar generation KITs also as a consumer good to end users covering a range of power from 320W to 2kW. The channel will be also direct sales of kits including a set of MODULES with the BOX and optionally a portable fuel generator. Customers will be both end-users (B2C) for temporary uses in isolated environments, and construction and infrastructure maintenance companies (B2B) willing to reduce fuel generators' consumption.
Solar systems with grid support for self-consumption in residential, commercial and small business installations. This product line will be sold through qualified installers (B2B) providing additional value to the product (underground permanent cabling, selection of several optimal module connection point, etc) for its use as a more permanent system for their customers.